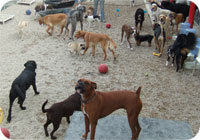 After years of training dogs professionally, Julie Nelson noticed that a basic need was not being filled in many dogs' lives. While all owners want the best for their dogs, today's busy lifestyle doesn't always allow for dogs to just be dogs—running, playing, sniffing, and exploring. In late 2002, Julie decided to fill this need by opening the first Paws In Time.  A small building in Batavia filled the need by providing fun dog daycare.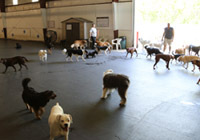 The schedule was sold out with more needs arising.  Julie saw the need and had a vision which included daycare, boarding and grooming services. Her vision has become a reality with two amazing facilities in West Chicago (2005) and Oswego (2014). Both offer 20,000 sq. ft. of unique indoor/outdoor space for dogs to play and relax in (including a splash pool in the summer).  They have space for boarding, including single sleeping rooms and luxury suites plus full service grooming.
Stop by one of the facilities to see the fun times that are always happening!