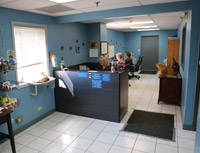 Under the guidance of founder Julie Nelson, our friendly staff are trained to provide the very best of care for your pet. From the moment our canine guests arrive (or are picked up) to the farewell treat at the end of the day, our focus is on providing a safe and pleasant environment for your dog.
Paws in Time: DaycareDaycare staff are trained to remain in control of the playgroup while providing fun and entertaining games for your furry friend. Though always under supervision, dogs are free to participate in any and all games, or just lounge outside if they like.
Shuttle Service drivers have an exceptional driving record and take care to make your dog's pick up and return home a pleasant experience.
Our groomers are professionally trained and provide all the services needed to keep your dog looking amazing!
Customer Service professionals greet you when you arrive and answer your questions when you call. They make sure that all the details are taken care of and are the backbone of success for Paws In Time.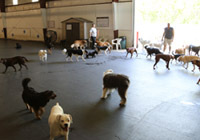 Paws in Time: Daycare   Our team is here to make sure your dog has the best time possible in a safe, healthy, and — most importantly — fun environment.